MUSICIAN, SONGWRITER, PRODUCER
Welcome to my little sliver of the www. I am incredibly blessed to work in this business which can be SO hard to break into and earn ANYTHING, let alone a living!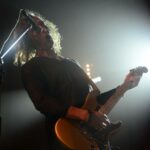 For me, it's all about the vibe. Sometimes it's the groove, sometimes it's the over-all picture, but I just KNOW when it's cooking on gas and when it's not. Above and beyond anything though, THE SONG IS KING! 
When producing, I now predominantly work out of my own studio (Shabby Road) as I have everything that I need right to hand. It makes it more cost-effective for my clients and has a laid-back chilled atmosphere. I only work with artists that I WANT to work with and this makes the process incredibly stream-lined. I can hear the finished product in my head before we start and once the starting pistol fires, the song comes together very quickly.
I work with solo artists, singer-songwritters and bands, but I'll ONLY work with projects that I WANT to work on. If you're looking for a grime or drill producer, then you're probably better off looking elsewhere.
It's not easy to categorise what my 'thing' is, but 'organic' is my buzzword. I love rock, prog, pop, jazz, almost anything, but it has to be 'real'. It has to have some sort of a soul. Please check out my showreel for examples.
Main Info
Producer, Engineer and Musician.
Based in Watford, UK.
PROFESSIONALLecturer on MA course in Audio Production, University of Westminster. London.
Jeff Wayne (The War of The Worlds), Lodestone Kick, Red Box, BBC Big Band, Cradle of Filth,
OUTSIDE OF MUSIC
I am married to a long-suffering wife.
A proud dad to two amazing boys and a cat.
F1 and Motor racing nut (I used to race).
A bit of an adrenaline junkie.
Managed to reach the summit of Kilimanjaro in 2013